ECHO 2023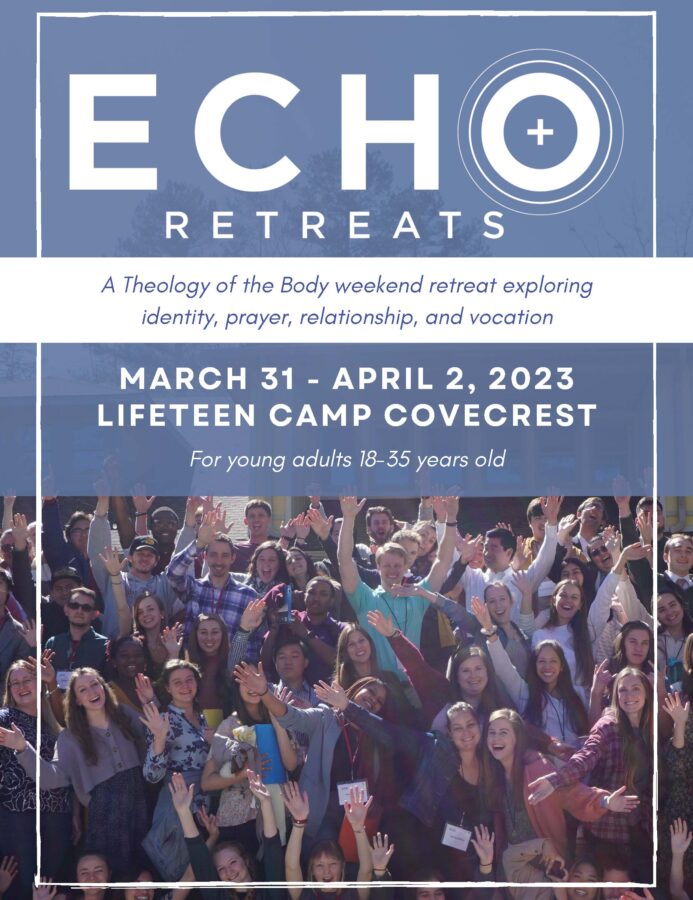 Flyer:
Download PDF of flyer here.
Age:
18-35 (must be out of high school)
Start time:
Friday (March 31) Dinner and Check-in: 5:00 PM – 6:30 PM. Retreat begins at 7:00 PM.
End Time:
By 4:00 PM Sunday, April 2
Registration Notes:
Completion of registration does not guarantee confirmed acceptance into ECHO. Your acceptance into ECHO depends on a number of different factors. You will be notified after your registration has been accepted. Registration is first come, first serve. Space is limited, so register early!
Price:
(Note: if money is a serious concern, please reach out to us. Some scholarships may be available.)
Registration Deadlines:
Cancel on or before March 10, 2023 – full refund
Cancel after March 10, 2023 – no refund
Travel Info:
Address: LifeTeen Camp Covecrest
25 Falls Dr, Tiger, GA 30576
Nearest airport: Hartsfield-Jackson Atlanta International Airport
With traffic, it is roughly a three hour drive from the airport to the retreat center. All retreatants are expected to provide their own transportation to and from the retreat center.
Airport Shuttle:
For those flying in from the airport, shuttle service is available for those who register in advance with Joey Martineck (jmartineck@archatl.com). Please wait to book your flights until you receive confirmed acceptance into ECHO. For booking flights, you must arrive no later than 12:30 PM on Friday, March 31.
Please book departing flights no earlier than 9 PM Sunday April 2.
Questions?
Contact Joey Martineck: jmartineck@archatl.com, 404-920-7362
Ready to register?
Register here.