ECHO 2022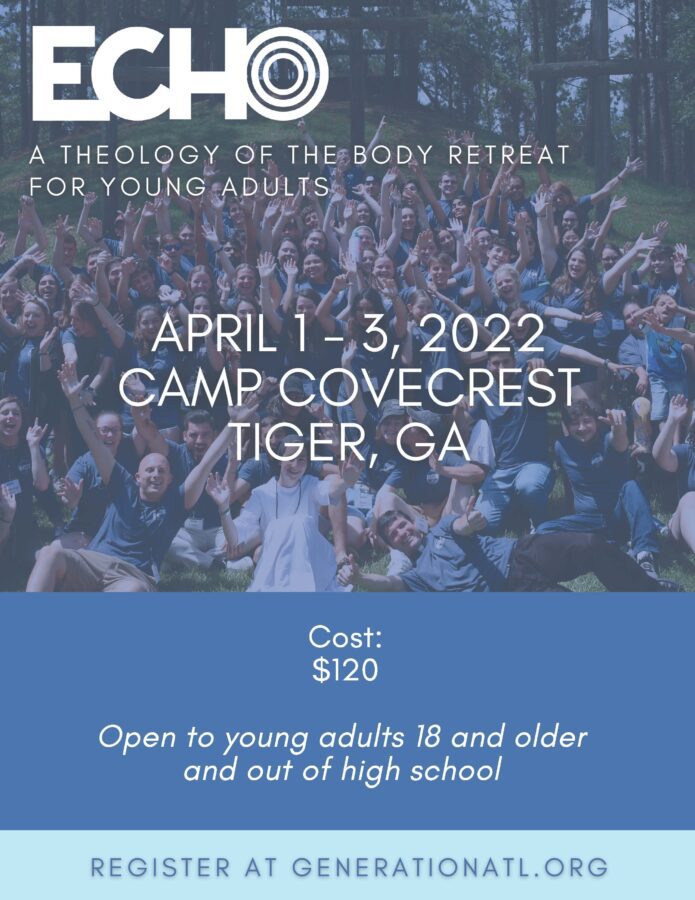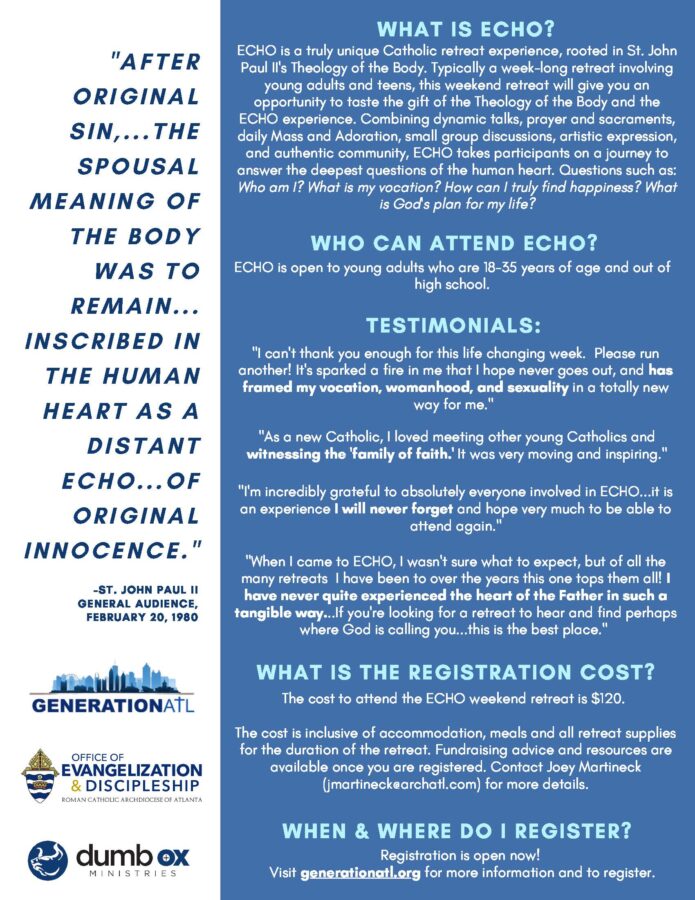 Age:
Start time:
Friday (April 1) Dinner and Check-in: 5:00 PM – 6:30 PM. Retreat begins at 7:00 PM.
End Time:
By 4:00 PM Sunday, April 3
Registration Notes:
Completion of registration does not guarantee confirmed acceptance into ECHO. Your acceptance into ECHO depends on a number of different factors. You will be notified after your registration has been accepted. Registration is first come, first serve. Space is limited, so register early!
If any major changes in the retreat need to happen, you will be notified and your registration fee will be reimbursed. If you test positive for COVID-19 a week or less before the retreat, you will be given a full refund.
Price:
(Note: if money is a serious concern, please reach out to us. Some scholarships may be available.)
Registration Deadlines:
Cancel on or before March 24, 2022 – full refund
Cancel after March 24, 2022 – no refund
Travel Info:
Address: LifeTeen Camp Covecrest
25 Falls Dr, Tiger, GA 30576
Nearest airport: Hartsfield-Jackson Atlanta International Airport
With traffic, it is roughly a three hour drive from the airport to the retreat center. All retreatants are expected to provide their own transportation to and from the retreat center.
Airport Shuttle:
For those flying in from the airport, shuttle service is available for those who register in advance with Joey Martineck (jmartineck@archatl.com). Please wait to book your flights until you receive confirmed acceptance into ECHO. For booking flights, you must arrive no later than 12:30 PM on Friday, April 1.
Please book departing flights no earlier than 9 PM Sunday April 3.
Questions?
Contact Joey Martineck: jmartineck@archatl.com, 404-920-7362
Ready to register?
Register here.